Academic
Journal
Asian Communication Research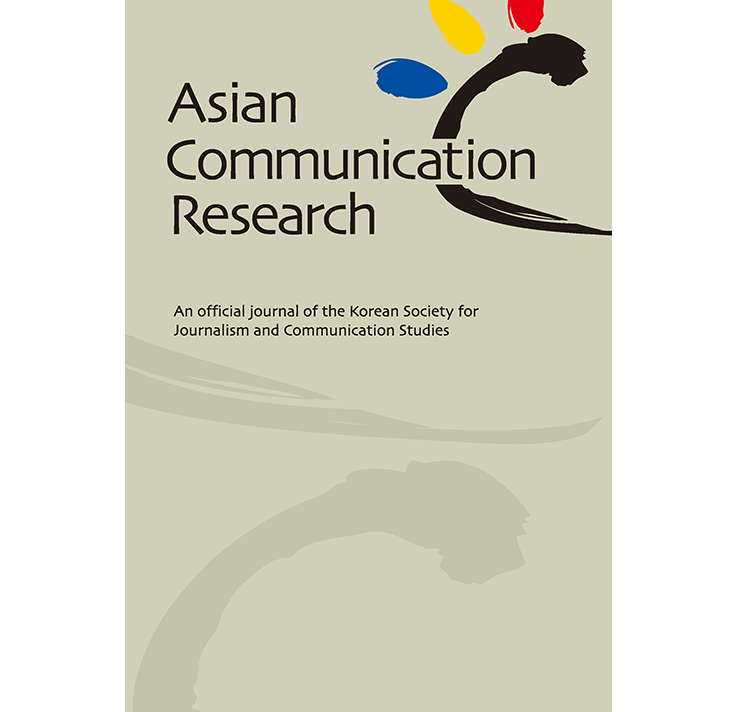 Asian Communication Research (ACR) is a refereed international publication that features cutting-edge scholarship in all areas of communication with a focus on Asian contexts, while contributing to understanding of communication phenomena around the world. ACR is published by Korean Society for Journalism and Communication Studies (KSJCS) three times a year, in May 30, September 30, and December 30.

ACR welcomes original research articles, theoretical and methodological essays, and book reviews. This journal has a continuous publication schedule throughout a year. We start the review process for each paper once we receive a paper, and accepted papers will be published in the earliest issue. ACR's new homepage and online review system are now under construction. For the time being, we receive papers through e-mail (acr@comm.or.kr).

Indexed by Korean Citation Index (KCI)
ISSN 1738-2084 (Print)
ISSN 2765-3390 (Online)

Editor-in-Chief: Sungeun Chung (Sungkyunkwan University, Korea)
Aims and Scope
Asian Communication Research (ACR) is a refereed international publication that features cutting-edge scholarship in all areas of communication in Asian contexts, while contributing to the understanding of communication phenomena around the world. The journal aims to present research on the processes, effects, and systems of communication in the broadly conceived region of Asia, as well as among Asian communities worldwide or across cultures, to a broad international audience. It publishes original research articles, theoretical and methodological essays, and book reviews.

Launched in 2004, ACR is an official journal of the Korean Society for Journalism and Communication Studies (KSJCS), the premier academic association for communication scholars and journalism practitioners in Korea. While centered in communication, the journal welcomes interdisciplinary approaches applied to unique communication topics from scholars worldwide. ACR is the first all-in-English peer-reviewed journal in journalism and communication studies in Korea and is indexed in Korea Citation Index (KCI).
Brief History
The idea of Asian Communication Research came to fruition after the successful 2002 International Communication Association conference in Seoul, Korea. The inaugural issue appeared in March of 2004. The founding managing editor was Taik Sup Auh (Korea University) and the founding editor was Sung Hee Park (Ewha Womans University). Charles Berger (University of California at Davis), Jennings Bryant (University of Alabama), Cindy Gallois (University of Queensland), Sakae Ishikawa (Sophia University), Hak-Soo Kim (Sogang University), Young Seok Kim (Yonsei University), Jae-Won Lee (Cleveland State University), Ye Lu (Fudan University), David Morris (Leeds University), Linda Putman (Texas A & M University), David Weaver (Indiana University), and Seong Mok Yang (Seoul National University) served as the members of the first editorial board of the journal. Former editors-in-chief are as follows: Sung Hee Park (2004–2007), Woong Ki Park (2007–2014), Sunny Yoon (2015–2017), Jae‐chul Shim (2017–2020).
Contact Us
Editor-in-Chief
Sungeun Chung, Sungkyunkwan University, Korea, chseun@skku.edu
Associate Editors
Borae Jin, Joongbu University, Korea, bjin23@gmail.com
Kyun Soo Kim, Chonnam National University, Korea, kimk@jnu.ac.kr
Minsun Shim, Inha University, Korea, mshim@inha.ac.kr
Associate Managing Editor
Daeun Jeong, Sungkyunkwan University, Korea, acr@comm.or.kr